Company Information
2017.02.20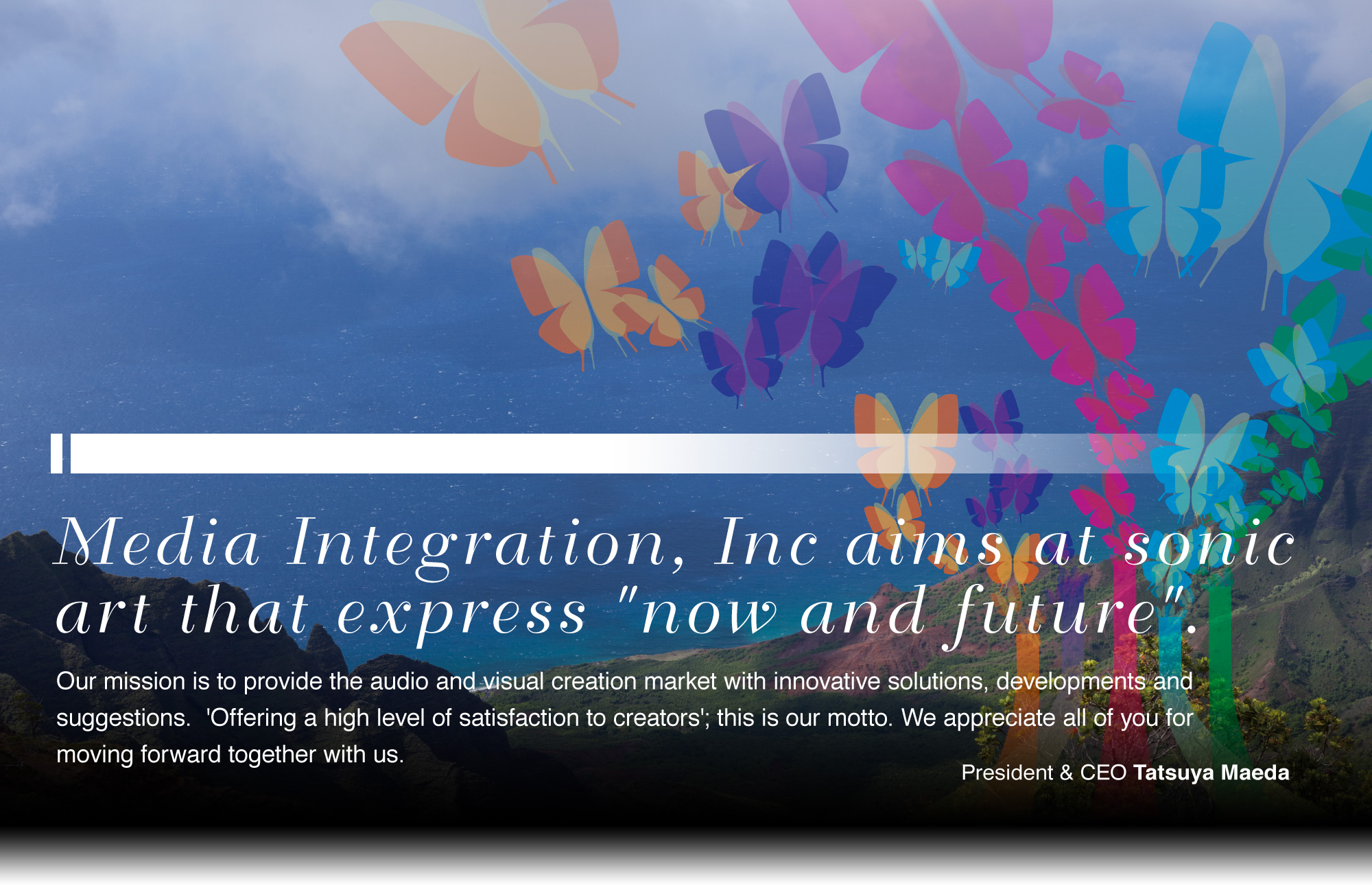 Media Integration consists of three divisions focusing on distribution, sales, and media respectively. Each division has a different mission and functions independently, whilst working in an efficient and dynamic manner through mutual communications. We think highly of the culture within Media Integration and pursue a result that is globally admired in an constantly evolving industry. We welcome all the new challenges in our market.
MI Div. (MI Div.:Distribution)
Our MI Division introduces quality and revolutionary tools to professional creators, artists and hobby musicians. For each brand we carry, we offer the best marketing optimization for the Japanese market. Our distribution business has grown stably with our partners in Europe, the U.S. and Japan. We organize technical support, seminars, online marketing and trade shows for complete customer satisfaction. MI Division works as a hub between manufactures, developers, retailers and end-users and provides creative solutions and a higher quality of audio productions to the music and audio industry.
Dealers: 200
System Installers: 8
Wholesalers: 7
Rock oN Sec.

Rock oN is our origin and the most advanced music store specialized for recording and music creation, and acclaimed by creators and industry all around the world by those who want the cutting-edge and quality. Since 1989 in Shibuya, Tokyo, Rock oN has been dedicated to delivering the latest technology information, and advanced leading solutions alongside the latest products - attracting artists and creators at the forefront of audio creation. Our business performance has been showing stable growth, and more recently, adding value as a community space where audio/visual creatives gather. Its atmosphere and carefully selected products stimulate huge "INSPRATIONS ". Rock oN, our flagship store is truly at the forefront of our industry.
Rock oN Company>>
ROCK ON PRO Sec.

ROCK ON PRO is our system integration division, offering full support for building a wide variety of studios, from commercial studios through to personal production rooms. We provide a complete service; consulting, system design, project management, wiring, acoustic treatments, building network data storage, and other needs. There is no compromise on quality. We combine our deep knowledge of the latest technologies with the carefully developed know-how we have gained from our numerous successful projects. For this reason we have been trusted by a multitude of clients; from huge commercial studios, broadcasters, post production studios, education facilities, to personal studios. . Specially trained and appointed ROCK ON PRO staff organize and manage the task force through every step of the process from its very beginning to its successful completion. We produce a reliable and ideal production suite where the creator can concentrate on production work.
ROCK ON PRO>>
EC-Section

As the rapid evolution of the Internet continues impacting traditional retail business and changing the world of commerce, EC-Section utilizes social media and e-commerce sites, supplying products and promoting our brands to the world. To develop in the market, we run our portal site for Pro Audio and Music connected to our own independent e-commerce store. We also sell products through Amazon.co.jp to our customers. Both channels are growing rapidly, providing our customers with suitable solutions and product line-up. To provide a high level of customers' satisfaction and a frustration-free shopping experience, our IT division and 3rd party logistics partner work together efficiently with our E-commerce division. Our retail store in Shibuya provides tech-support, a space for face-to-face communication with customers and hands-on show room while working closely with our E-commerce division. This dynamic differentiates Media Integration from our competitors making our store unique globally.
Rock oN eStore>>
IT & Contents Div. (IT Cont. Div.:Proceed Media )
Our IT & Contents Division plays two roles: first, building and managing our stable network system, optimized for current "BIG DATA" days to providing our stake holders with flawless service. Our IT & Contents Division plays two roles: firstly, building and managing our stable network system, optimized for current "BIG DATA" days to providing our stake holders with flawless service; secondly providing customers and suppliers with the latest information, through both on-line and print media. Utilizing advanced IT technologies, we offer a stress-free user experiences. Our well known on-line trade-show report and Proceed Magazine has been a well viewed and trusted source to many professionals in the audio industry:creators, engineers, musicians, producers, developers and manufactures. We surely achieve the distribution of valuable information that will create "something special ".
Where art, sound and music are created. Where musical instruments, equipment and tools are developed. We have a deep knowledge and experience in both through our various works. SymProceed is a joint force of our 4 divisions and 3rd party partners. We "know" the real sound production world. Therefore, our collective talents and skills develop innovative products. SymProceed will add value and something special to any sound production environment.
Sym・Proceed>>


NAMM / IMASTA JAPAN / JAREC / JAPRS / JPPA
Address / Contact Address
Head Quarter : Jinnan Watanabe Bldg 2F 1-4-8 Jinnan Shibuya-Ku Tokyo 150-0041 Japan
Phone : +81-3-3477-1492 / Fax: +81-3-3477-1757